Apt 133 -- rue Quincampoix -- 4th District --
Sleeps
Bdrms
Size
Night
Week
Month
Min. Stay
2
1
35m2 (350ft2)
110€
770€
1860€
5 Nights
---
2nd floor without elevator
A haven of calm in the heart of a very lively neighbourhood. Take a look at this apartment in the Marais studio loft in the heart of Paris.
Its system of colors and beams that are improvements, they define the essence of this beautiful space. The natural and artificial lighting, align with and reflect off the bright orange and light blue wall and beams respectively. From the living room window you are facing a little courtyard with garden inside the building The floor plan is split on two levels with very comfortable bedroom upstairs and a lot of space to unpack. In the living room one of the sofa turns inti a bed for one person.
Facilities include free wifi, washing machine, dryer, television, microwave oven, refrigerator, and other appliances.
The building is located on a street that has existed since 1210. There are restaurants, bars, boutiques and open air markets all over, some of which are open 7 days a week. Also near the Bastille, the Louvre, Palais Royal, Hotel de Ville, Notre Dame and the Latin Quarter. Conveniently close to several major subway lines giving access to other tourist areas such as the Champs-Elysées.
Métro Rambuteau is 2mn away or RER at Les Halles is 5 mn away. There's also three bike rental stations (VéLib) nearby on the rue Rambuteau, the rue Quincampoix and the boulevard de Sébastopol.

CHECKING TIMES : As the flat manager for this apartment and many others in Paris, I would like to remind all our clients that checking times are strictly between 4.00.pm-8.00pm for check-ins and 10.00am-12.00 noon for check-outs. However, I understand that these normal checking hours may not suit everyone and I am always prepared to consider alternative times depending on the flat availability and on my other work commitments. While every effort is made to satisfy our clients, there may be times, especially during the busy season when the demand for flat letting is high, when no alternative checking time may be possible. Last minute changes are also inadvisable though not always un-workable. In the event that a checking time outside the normal checking hours (10.00am-8.00pm) should be required, a fee of 5? per half hour incurred will be charged. This also has to be arranged in advance.
* Please note: For arrivals and departures on Sunday and bank holidays there will be a supplemental checking fee of 20?, and on Christmas Eve (from 7.00pm), Christmas Day, New Year's Eve (from 7.00pm) or New Year's Day, there will be a supplemental checking fee of 50? to be paid in cash upon your arrival.

DELAYS : Tenants should arrive at the flat at the check-in time allocated to them at the time of booking. A one-hour grace period is given in good faith as an allowance for any minor delays that may occur and is absolutely free. However, a waiting time thereafter will be charged @ 15 ? per hour once the grace period has elapsed. Depending on my other work commitments for the day, it may not always be possible for me to extend the waiting time especially during the busy season. If the tenants have failed to show up after the 60 minutes of their appointed check-in time and I have not received any communication or instructions from them, I may have, at my discretion, to leave the premises as I have no way of knowing whether they are actually on their way to the flat. It is therefore always in the tenants' best interest to inform me as soon as possible about all possible changes or delays to their arrival. A courtesy phone call could save a lot of money! A minimum of three hour notification period prior to the appointed arrival time is required for me to be able to suggest an alternative check-in time at no extra cost to the tenants.
Click on image to view at full size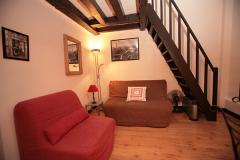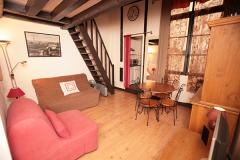 ---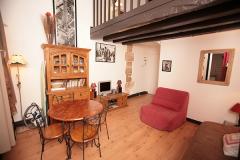 ---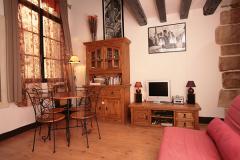 ---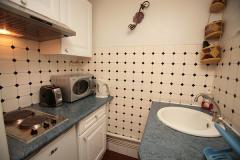 ---
---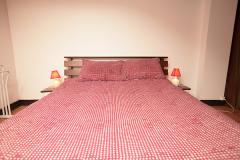 ---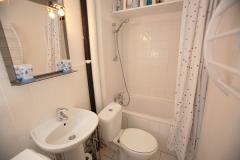 ---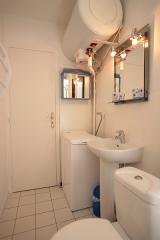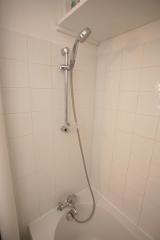 ---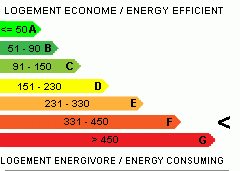 Energie = F : 331 - 450 kWh ep/m2 an